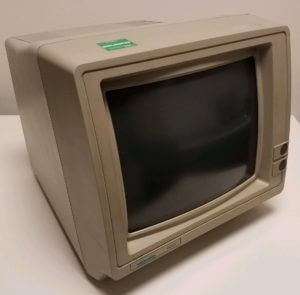 The Tektronix 4207 terminal was introduced in October of 1986 and discontinued in 1993. That means that if you own one of these, it's possible that it's 33 years old, and it's equally possible that you've realized how difficult they are becoming to maintain. Add to that the problem of disposing of the CRT's these days and your boat anchor suddenly becomes more of a millstone around your neck.
So…what's the solution?
Simple. You send us your dinosaur and we send you a brand new, shiny replacement that uses only two or three components from the existing 4207: the main board, the front panel switch / jack assembly, and the memory card (if needed). All other parts are disposed of properly in an environmentally friendly manner, and high failure items (like the power supply, for example) are replaced with brand new components.
---
Once the conversion is completed, the remainder of the original 4207 will be disposed of properly. Please note that the sales price includes the cost of CRT disposal.
You send us your failed 4207 and, provided the main board is functional, we will send you the following:
1 ea. LCD Monitor
1 ea. TR-4207A
2 ea. Power Cord
1 ea. VGA cable
1 ea. Operator Manual